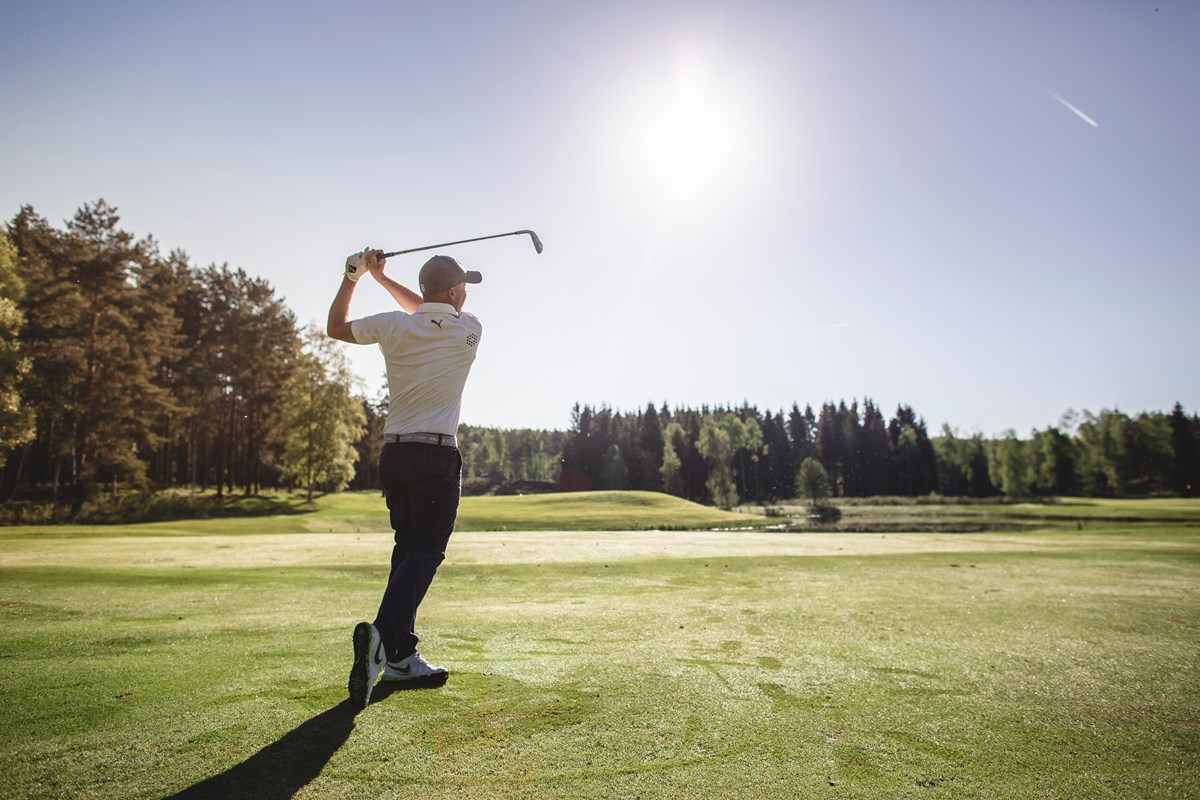 Golf package Classic
There are few things that beats a sunny day on one of Sweden's best (18 hole) golf courses, Skogsbanan and Parkbanan. So, do yourself a favour and book a weekend of golf with us and get an experience out of ordinary; with fantastic golfing in Smålandian nature, spending the night in lovely 18th century environment, enjoying world-class food and relaxing in our beautiful spa.
Would you like to stay a bit longer, maybe to practice your golf skills with one of our talented pro's? Perfect! We have both four-, five, and seven-day golf-stays available. 
GOLF STANDARD ONE DAY
Green fee
Our three-course dinner
Overnight stay in double room
Breakfast
Price from SEK 1,585 per person
See current prices in our online booking
GOLF STANDARD TWO DAYS
Two green fees on 18 hole courts
Three-course dinner, two evenings
Overnight stay in a double room, two nights
Organic breakfast buffet, two days

Price from 3000 SEK
See current prices in our online booking
GOLF STANDARD FOUR DAYS
Four green fees
Our three-course dinner, four evenings
Overnight stay in a double room, four nights
Breakfast buffet, four days

Price from 6 000 SEK
GOLF STANDARD ONE WEEK
Seven green fees
Three-course dinner at the manor, seven evenings
Overnight stay in a double room, seven nights
Breakfast buffet, seven days

Price from 9 900 SEK

See current prices in our online booking
Supplement per person:
Extra green fee 400 SEK, access to spa 300 SEK, room in the manor 500 SEK or suite 1000 SEK, single room supplement 300 SEK
See our summerpackage week 26-33
Children
Children are always welcome. Price for children: 0 - 4 years free, 5 - 14 years 480 SEK. The price also include a three-course dinner from our children's menu, accommodation in an extra bed as well as our breakfast buffet.
Does your child play golf? Add 200 SEK for a junior green fee.
Want to add a silver lining for your stay?
When you spending time with us, there are a lot of opportunities to add a silver lining to your stay. How about a spa treatment, champagne on your room upon arrival or maybe upgrade to a beautiful suite? Please talk to us if you would like to know more.
Collaboration with other golf clubs
We like friendships, that's why we have great collaborations with several of the golf clubs in the region. If you want to supplement your visit with games on another golf course, we'll help you arrange that. Our partners is: Sand Golf Club, Isaberg GK, Skinnarebo Golf & Country Club and Götaströms GK.
Restaurant
Our restaurant and kitchen were renovated in 2019, and we're really proud of both its look and the food created there. Our chefs make their absolute utmost to create well composed, tasty dinners consisting of selected, locally produced products. Please let us know no later than 24 hours prior to your visit if you have any allergies or special dietary needs, or we'd be forced to charge a fee of 100 SEK. We recommend letting us know what time you'd like to enjoy your dinner as soon as possible. We like punctuality, and hope you do too…